Sciences and Exploration Directorate (600) Awards Won
Now displaying records 1 to 25 of 546.
AAS Fellows

02.25.2020

Recipients:

Alice K Harding (663), Sangeeta Malhotra (661), Maxim L Markevitch (662), John C Mather (660), William D Pence (662), Tod E Strohmayer (662), Jean Hebb Swank (662), Kimberly A Weaver (662)
The Fellows program of the American Astronomical Society (AAS), the major organization of professional astronomers in North America, was established in 2019 to honor members for their contributions toward the AAS mission of enhancing and sharing humanity's scientific understanding of the universe. The following members of ASD were honored among the first group of AAS Fellows, announced Feb. 25:

Edward Cheng
Alice Harding
Sangeeta Malhotra
Maxim Markevitch
John Mather
William Pence
Tod Strohmayer
Jean Hebb Swank
Kimberly Weaver
AMS Joanne Simpson Mentorship Award

01.12.2020

Recipient:

Anne R. Douglass (614)
For patient guidance and boundless encouragement of young scientists, and for leading by example as a researcher, writer, and project scientist
John C. Lindsay Memorial Award for Space Science

12.11.2019

Recipients:

Keith C Gendreau (662), Zaven Arzoumanian (662)
Drs. Keith Gendreau and Zaven Arzoumanian are the joint winners of the 2019 John C. Lindsay Award for Space Science. Keith and Zaven are being recognized for their development of the Neutron Star Interior Composition Explorer (NICER) instrument, and the revelations of the physics of neutron stars and their environments that NICER is producing. Keith is the PI of NICER and Zaven is the Deputy PI.
Nancy Grace Roman Technology Fellowship

11.20.2019

Recipient:

Regina M Caputo (661)
Congratulations to Regina Caputo on her selection as a Nancy Grace Roman Technology Fellow.
2019 François Arago Award

Nov, 2019

Recipient:

Michael I. Mishchenko (611)
Presented by the International APOLO Project, this senior award is intended to celebrate profound contributions by a prominent scientist to the research field of polarimetric remote sensing.
Pioneer Certificate

10.23.2019

Recipient:

Carey E Noll (61A)
Presented at the 2019 SLR Technical Workshop in Stuttgart, Germany, "In recognition of her dedication, vision and creativity in supporting all aspects of the ILRS."
HQ Team Excellence Award

10.11.2019

Recipients:

Celio Helder Resende De Sousa (618), Lola E. Fatoyinbo Agueh (618), Christopher S.R. Neigh (618), Ibrahim N. Mohammed (617), John D. Bolten (617), Kevin Alan Ward (613), Daniel Adam Bader (611), Christian V Braneon (611)
As part of the Agency-wide Earth Science Partnerships Team for accomplishments in creating partnerships with commercial and non-governmental organizations.
IRAD Innovator of the Year

Oct, 2019

Recipient:

William W Zhang (662)
Goddard's Office of the Chief Technologist has named astrophysicist William Zhang as IRAD (Internal Research and Development) Innovator of the Year, an honor the office bestows annually on individuals who demonstrate the best in innovation.

Chosen because of his foresight, perseverance, and leadership, Zhang spent nearly two decades advancing the state-of-the-art in X-ray optics. He and his team ultimately succeeded in their years- long endeavor, creating a new type of optic, made of mono-crystalline silicon, an abundantly available material commonly used to manufacture computer chips.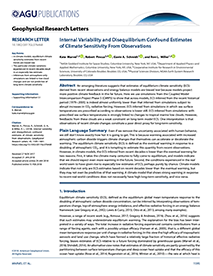 GISS Best Publication Award

08.08.2019

Recipients:

Katherine D Marvel (611), Robert Pincus, Gavin A. Schmidt (611), Ronald Lindsay Miller (611)
The article "Internal variability and disequilibrium confound estimates of climate sensitivity from observations" by Kate Marvel et al. was voted the best research publication by the staff of Goddard Institute for Space Studies to have been published in 2018. The paper appeared in journal Geophysical Research Letters.
2019 ISS Compelling Results Award – Physical Sciences and Materials Development

08.01.2019

Recipient:

NICER Team
The American Astronautical Society (AAS) grants ISS Research Awards for creative innovations and remarkable research results achieved on the International Space Station (ISS). The society selects winners from nominations by NASA, the Center for the Advancement of Science in Space (CASIS) and international partners. The award is presented at the ISS Research and Development (R&D) Conference, an annual event in the jointly managed by NASA, AAS and CASIS.
ASD Peer Award

07.23.2019

Recipients:

Jenna Ballard (660), Thomas Barclay (667), Sean C Blumberg (660.2), Daniel Ilao Dizon (662), David P Friedlander (660.2), Jeanette Alexandra Kazmierczak (660), Samuel J Moseley (662), Elmer H Sharp (665), Teresa B Sheets (587), Jennifer J Wiseman (660)
Congratulations to this year's ASD Peer Award winners: Jennifer Ballard, Thomas Barclay, Sean Blumberg, Ruth Carter, Daniel Dizon, David Friedlander, Jeanette Kazmierczak, Samuel J. Moseley, Elmer Sharp, Teresa Sheets, and Jennifer Wiseman.
SSED Peer Award

07.19.2019

Recipients:

Veronica Amber Allen (691), Carrie Anderson (691), Giada Nicole Arney (693), Jamie Elsila Cook (691), Marley A Fleishman (690), Donald Barry Coyle, Lisa G Kelly (155.1), Jacob Armstrong Richardson (698), Jessica Lynn Still (695), Geronimo L Villanueva (693), Molly L Wasser (690), Nafisatu Abiodun Zubairu (157.1)
Congratulations to the 2019 SSED Peer Award Winners: Veronica Allen, Carrie Anderson, Giada Arney, Jamie Cook, Marley Fleishman, Barry Coyle, Lisa Kelly, Jacob Richardson, Jessica Still, Geronimo Villanueava, Molly Wasser, Nafisatu Zubairu
International Association of Cryospheric Sciences (IACS) Early Career Award

07.12.2019

Recipient:

Denis Felikson (615)
Citation for the paper by the Selection Panel: "Denis Felikson and his co-authors show that the Péclet number, which is determined from high-resolution bedrock and surface topography data, can explain the competition between inland diffusion and advective resupply of ice in Greenland outlet glaciers with floating tongues. This provides a conceptually simple but powerful understanding of the disparate response of Greenland outlet glaciers to terminus perturbations. It also allows identification of the most vulnerable glaciers to climate forcing so that they can be targeted for further studies."
The Peter McGregor Prize of the Astronomical Society of Australia

Jul, 2019

Recipients:

David Gordon (61A), The DiFX Collaboration
The Peter McGregor Prize is awarded by the Astronomical Society of Australia in recognition of exceptional achievement or innovation in astronomical instrumentation. The prize is normally awarded every three years. The award is made to an individual or team for the design, invention or improvement of astronomical instrumentation and associated software techniques that have enabled significant advances in any areas of astronomy, without restriction to wavelength or space/ground-based observations.

Citation: "The Distributed FX Correlator (DiFX) is a software package that contains tools necessary to turn an array of radio telescope signals into a functioning radio interferometer. The DiFX has contributed significantly to reducing the barrier to entry and play a major role in radio astronomy research internationally. The system has enabled a wide range of science, as testified by the very high number of references to the key technical papers. The open-access nature of the software has put a new tool in the hands of astronomers, with demonstrated positive results. Its scalability and adaptability has and continues to enable researchers to tailor its behaviour and pursue what would otherwise be difficult science goals."

The DiFX Collaboration is led by Adam Deller of Swinburne University (Australia), and includes: Adam Deller (leader), Walter Alef, James Anderson, Matthias Bark, Matthew Bailes, Walter Brisken, Roger Cappallo, Geoff Crew, Richard Dodson, David Gordon, Zheng Meyer-Zhao, John Morgan, Chris Phillips, Cormac Reynolds, Jon Romney, Helge Rottman, John Spitzak, Matteo Stagni, Steven Tingay, Jan Wagner, Mark Wainright, and Randall Wayth.
USGIF Academic Achievement Award

06.04.2019

Recipients:

Aaron Gerace (428), Matthew Montanaro (618)
For their novel, real-time algorithm solution to reduce Landsat 8 calibration errors
Arthur S. Flemming Award

06.03.2019

Recipient:

John D. Bolten (617)
"For achieving advances in applying satellite remote sensing, land surface modeling, and data assimilation for water resources management, agricultural forecasting, and flood monitoring and impact assessment. Recent examples of Dr. Bolten's work include satellite data assimilation -based soil moisture maps that are used operationally by USDA's Foreign Agricultural Service, and the first maps based on data from NASA's Soil Moisture Active Passive (SMAP) to be available on Google Earth Engine. In addition to his own renowned research as a principal investigator, Dr. Bolten has guided dozens of projects in his role as Associate Program Manager, Water Resources, within NASA's Applied Sciences Program. He demonstrates exceptional creativity in conceiving novel approaches to complex, applied scientific problems and is highly regarded in the community, as evidenced by frequent requests to give keynote lectures at prominent domestic and international meetings and his nomination to and service on the National Research Council's Decadal Survey for Earth Science and Applications from Space in 2017, which will guide NASA's Earth Science mission priorities in the 2020s."
NASA Honor Award - Distinguished Service Medal

Jun, 2019

Recipient:

Edward J Masuoka (619)
NASA Honor Award - Outstanding Leadership Medal

Jun, 2019

Recipients:

Avi M Mandell (693), Thorsten Markus (615), Joel McCorkel (618), Matthew J McGill (610), David Gary Sibeck (674)
NASA Honor Award - Distinguished Public Service Medal

Jun, 2019

Recipient:

Robert Ergun
NASA Honor Award - Exceptional Public Service Medal

Jun, 2019

Recipient:

Richard Eastes
NASA Honor Award - Exceptional Engineering Achievement Medal

Jun, 2019

Recipient:

Timothy Allen Cameron (675)
NASA Honor Award - Equal Employment Opportunity Medal

Jun, 2019

Recipient:

Torry A Johnson (610)
NASA Honor Award - Exceptional Achievement Medal

Jun, 2019

Recipients:

Emil Lawrence Kepko (675), Barbara J Thompson (671)
NASA Honor Award - Early Career Achievement Medal

Jun, 2019

Recipient:

Daniel Jonathan Gershman (673)
NASA Honor Award - Early Career Public Achievement Medal

Jun, 2019

Recipient:

Jordi Vila Hernandez de Lorenzo (665)
Now displaying records 1 to 25 of 546.