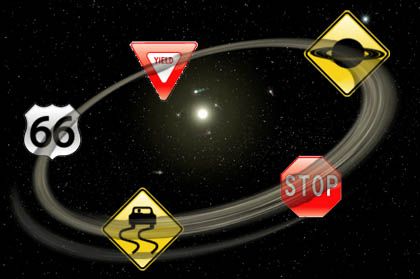 David Friedlander's photos of the Conference are here.

Join the SIGNPOSTS of PLANETS facebook group to stay in touch and share incriminating photos!
Do debris disks always contain planets? Can we infer the properties of these planets from the morphologies of these disks? How do planets affect T Tauri, Herbig Ae, and transitional disks? Are patterns in exozodiacal clouds friend or foe for direct imaging of exoEarths?
This conference will bring together observers, modelers, and instrument builders to take on all these questions. Bring your prettiest images and simulations; let's compare them.
SOC

J.C. Augereau
Nuria Calvet
James Graham
Jane Greaves
Willy Kley
Marc Kuchner
Christian Marois
Michael McElwain
Lee Mundy
Ruth Murray-Clay
Alice Quillen
Sean Raymond
Glenn Schneider
Karl Stapelfeldt
Marshall Perrin
Alycia Weinberger

LOC

Mark Clampin
Thayne Currie
John Debes
Carol Grady
Hannah Jang-Condell
Marc Kuchner
Avi Mandell
Aki Roberge
Christopher Stark
Bill Oegerle
DC Area Attractions
Mike's Crab House

October 19, 2011 - 7 pm to 9 pm

Banquet at Mike's Crab House in Annapolis, $45 per person. Maryland crabs are better in the fall, when the crabs that have been lucky enough to survive the season begin to bulk up for hibernation.
Smithsonian Explore the world's largest museum complex.
Visiting Washington DC TripAdvisor - Washington DC Vacations, Tourism and Travel Reviews
Questions?
Contact: Lynette Queen
October 18, 19, 20, 2011
Goddard Space Flight Center