Dr. Lisa Milani
(she/her/hers)
Atmospheric Scientist
Mesoscale Atmospheric Processes Laboratory (612)
What is your research focus?
My research focuses on snowfall. I use satellite observations to detect and retrieve snowfall rates from space. Although this could sound like an easy task, the complexity of ice crystals and their shapes, orientation, and susceptibility to environmental conditions make snowfall retrieval from space one of the most difficult tasks within the precipitation field. I work with the NASA Global Precipitation Measurement (GPM) Mission team to improve snowfall retrieval algorithms from active and passive microwave sensors. I like to think about myself as the connection between algorithm developers and final users of precipitation products. I try to understand the weaknesses of the algorithms and provide suggestions to improve the products.
My projects mostly focus on snowfall regimes, trying to understand the different behavior of snowfall when produced by deep stratiform systems or by shallow convective ones. The US Great Lakes region, for example, experiences shallow convective snowfall, commonly called lake effect snow, but other regions are subject to the same type of events if they are close to large bodies of water. Cold air outbreaks coming from the Arctic interact with the moisture produced by relatively warm bodies of water producing convective clouds that could persist over the same location for days. For most of my work I compare active and passive microwave sensors' observations to find a way to correctly estimate snowfall. My recent Precipitation Measurement Missions (PMM) project, for example, uses matched CloudSat and GPM observations to train a Deep Neural Network to recognize from passive microwave observations what kind of snowfall regime the sensor is looking at.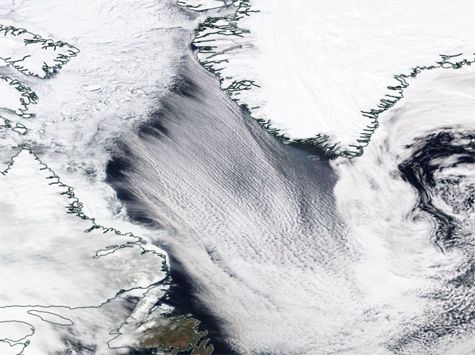 On April 19th, 2022, the Moderate Resolution Imaging Spectrometer (MODIS) aboard the Aqua satellite captured a fantastic example of shallow convective clouds over the Labrador Sea between Canada and Greenland. During the spring season, the land surface is still frozen, while the water is already mostly free of sea ice. The cold winds blowing toward the southeast can draw moisture from the relatively warm water surface and form convective clouds. The cloud bands in this picture are a classic example of the shallow convective clouds, typically providing solid precipitation, that I study in my projects.
Credit: NASA WorldView
Tell us about one project that has been particularly impactful in your field.
Back in 2014, I met Dr. Mark Kulie, a brilliant scientist from Wisconsin. He mentioned he was working on a project about shallow convective snowfall using CloudSat observations. I was using CloudSat data as well, so we started collaborating. Back then I remember I had to look up what this "shallow" thing was. Now shallow convective snowfall is one of my major research topics; I really love how beautiful and complicated these kind of events can be. Together we developed an algorithm to detect shallow convective snowfall using spaceborne radars, and we published the first observational census of this snowfall regime. Shallow convection heavily impacts specific regions around the world, but there aren't many scientists focusing on this kind of precipitation. The importance of retrieving it correctly is invaluable for accurate precipitation retrievals. The clouds producing these kind of events are very shallow and can easily be missed by satellite sensors, either active or passive. The bias caused by missed detection or underestimation of shallow convective snowfall leads to biased snowfall average rates and, as a consequence, to biased precipitation trends over the years. In a quickly changing climate, providing correct observations is crucial for improving climatological models, and my focus on shallow convective snowfall is helping moving in that direction.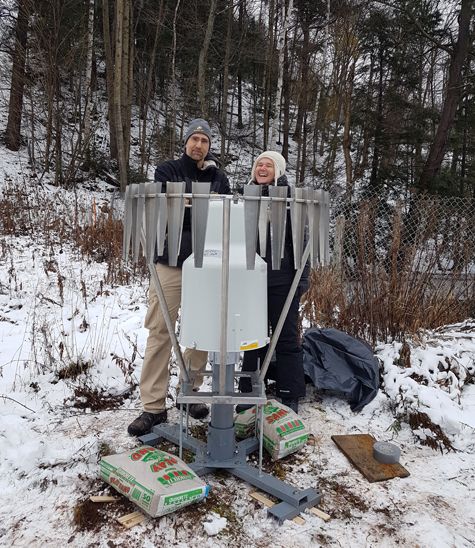 Deploying pluviometers with Dr. Mark Kulie in Marquette, MI, within a GPM ground validation field experiment. For this experiment, we deployed 12 pluviometers within a 5 km radius to measure snowfall variability within one single field of view from space to study beam filling issues.
Credit: Lisa Milani
How did you end up working at NASA Goddard?
My career took me to several places around the world, but probably the best moment of all was in Bologna, a week after I started my post-doc position at the Institute for Atmosphere and Climate Sciences. My institute organized the International Precipitation Working Group meeting, and I was asked to present a recently published paper. Dr. Gail Skofronick-Jackson was there, and she really liked my work. We had a brief conversation from which we started a collaboration finalized with her last published paper. She appreciated my work and the way I do science, and, after one year of collaboration, she offered me a two-year position at Goddard. Those two years became four and counting. Gail was a brilliant scientist, an outstanding leader, and an exceptional example and inspiration for women scientists in general and for me personally. I will always be grateful for that day and the opportunity she gave me. I didn't know back then, but Goddard is definitely the place I wanted to be.
What skills are most useful to you in your work, and where did you develop those skills?
There are some obvious skills that a scientist must have. A scientist cannot avoid coding or writing papers. Communication skills are also very important; scientists who are able to communicate their work through simple but impactful presentations can really differentiate themselves between "just another presentation" and "that awesome work I've heard about". For a non-native English speaker, these skills are quite challenging to obtain, and they require a lot of effort and everyday experience to develop. I think that also networking and listening are very important. I used to be a very shy person, and I had to force myself to get out there and start discussing science with people. Scientists never stop learning and, for me, scientific conversations and brainstorming sessions are the most successful way to keep learning from scientists around me. I think experience has been so far the best way to obtain all the skills I mentioned; yes, I've learnt a lot at school, but there has been nothing like observing, listening, trying and failing that has better helped me develop my inner scientist.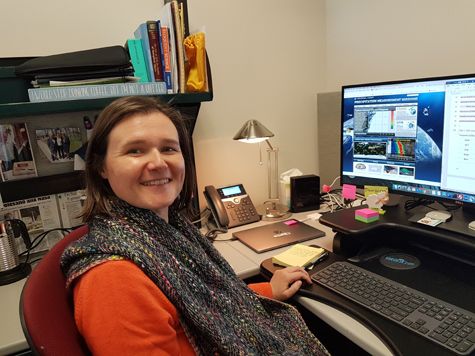 In my office during a typical workday.
Credit: Lisa Milani
What does a typical day at work look like for you?
My workday cannot start without a good espresso coffee. Then I go through all my emails, and after that I start actual work. Depending on the period, I spend most of my time analyzing data, so coding and plotting results, or writing papers or proposals. Networking is also a very important part of my workday. Having formal or informal chats with colleagues at Goddard or around the world stimulates ideas and collaborations. Finally, I spend some time serving the scientific community with reviews (papers or proposals), planning activities for technical committees I am part of, or doing some outreach activities. I also value the importance of a good relaxing lunch break and take a walk every now and then when my brain needs some fresh air. During the day, a good balance of all these components makes me feel complete and very productive.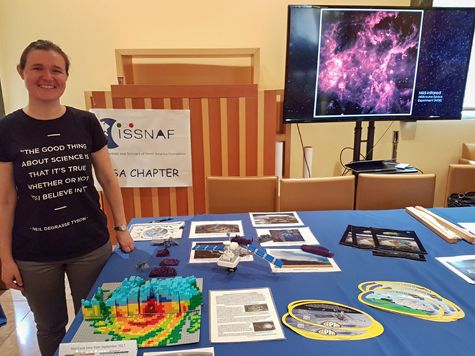 Outreach activity at the Italian Embassy in Washington DC. The Lego model on the table is a reproduction of Hurricane Irma as seen from the GPM Dual-Frequency Precipitation Radar (DPR), with the vertical structures, and the GPM Microwave Imager (GMI) flat on the board.
Credit: Lisa Milani
Where do you see yourself in the near future?
Now that I have experienced working at NASA, I am not sure I would like to change my career path. With my proposals beginning to get funded and the collaborations I have in place, in few years I still see myself at Goddard, sitting in my office at the 4th floor of building 33.
What is a fun fact about you?
I get passionate about everything I do, and if I start something I'll never drop it until I master it. This is true for work, but it is equally true for my personal life. My hobbies span from hiking, biking, practicing yoga, gardening, cooking, and playing board games, but there are some hobbies that are for sure more embedded into my everyday life. I am an avid knitter, I love to spend relaxing hours on the chair knitting; it really empties my brain and allows me to recharge my batteries. My productions go from simple scarf and hat projects to sweaters, cardigans, or jackets. I recently also made a blanket - that was quite a commitment!
Another fun fact comes from my non-native English speaker experience. When I was a teenager and I was starting learning English, I couldn't hear the difference between the words "sheep" and "ship". Some friends from the UK one day gave me a little sheep as a gift to help me learn. Since then, I collected more than 300 little sheep from all around the world and now, knowing about my collection, every time friends see any sheep-related object they get it for me.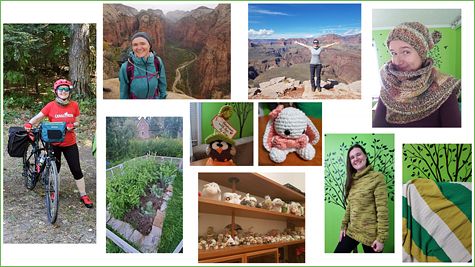 Some of my favorite hobbies. In clockwise order: bikepacking through the Keweenaw Peninsula of Michigan, hiking in Zion National Park and Grand Canyon, scarf and hat production, the last blanket I made, knitted cozy sweater, part of my sheep collection, amigurumi bunny and owl and my first garden. (Click to enlarge)
Credit: Lisa Milani