Planetary Systems Laboratory (693) Highlights
Press Releases & Feature Stories
11.18.2014

A new animation from NASA's Goddard Space Flight Center depicts what is known and what remains mysterious about the early solar system and asteroid Bennu, the target for the OSIRIS-REx mission.
10.28.2014

In this view, the shadow of the Jovian moon Ganymede swept across the center of the Great Red Spot. This gave Jupiter the uncanny appearance of having a pupil in the center of an "eye"
10.24.2014

NASA scientists have identified an unexpected high-altitude methane ice cloud on Saturn's moon Titan that is similar to exotic clouds found far above Earth's poles.
See Laboratory Press Releases & Feature Stories Archive »
Presentations
Reports
There are no Reports available at this time.
Local News
Images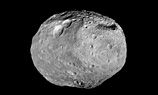 10/03/2013

As the Dawn spacecraft travels to its next destination, this mosaic synthesizes some of the best views the spacecraft had of the giant asteroid Vesta.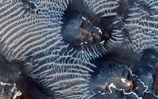 10/03/2013

This colorful scene is situated in the Noctis Labyrinthus region of Mars, perched high on the Tharsis rise in the upper reaches of the Valles Marineris canyon system.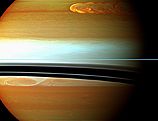 11/28/2011

Saturn's northern storm marches through the planet's atmosphere in the top right of this false-color mosaic from NASA's Cassini spacecraft.
See Laboratory Image Archive »