Planetary Systems Laboratory (693) Highlights
Press Releases & Feature Stories
02.08.2016

In addition to looking across vast distances, NASA's James Webb Space Telescope will study planets, moons and small objects in our solar system.
01.28.2016

Water ice is more prevalent on Pluto's surface than previously thought, according to new findings based on data from the Ralph/Linear Etalon Imaging Spectral Array (LEISA) on the New Horizons mission.
01.28.2016

This New Horizons image is the first look at Pluto's atmosphere in infrared wavelengths. It was made with data from the Ralph/Linear Etalon Imaging Spectral Array (LEISA) instrument.
See Laboratory Press Releases & Feature Stories Archive »
Presentations
Reports
There are no Reports available at this time.
Local News
Paul Mahaffy Named Director of the Solar System Exploration Division

12/11/2015

Paul Mahaffy has been named the new Director of Goddard's Solar System Exploration Division. Paul served for nearly 10 years as Chief of the Planetary Environments Laboratory, leading this group's study of planetary atmospheres and surface environments with emphases on the modeling of atmospheres and surface environments, advanced instrument development, the study of terrestrial planetary analogs, and the development of space-qualified instruments. Paul is currently Principal Investigator of the Sample Analysis at Mars (SAM) investigation on the Curiosity rover and of the Neutral Gas and Ion Mass Spectrometer (NGIMS) on the MAVEN Mars orbiter. He previously participated in a wide range of planetary missions, including those to Jupiter, Saturn, comets, and the moon.
12/03/2015

Three scientists in the Sciences and Exploration Directorate have been named Fellows of the American Association for the Advancement of Science (AAAS). Lucy McFadden (693), Jose Rodriguez (614) and Compton Tucker (618) are among 347 AAAS members awarded this honor for their scientifically or socially distinguished efforts to advance science or its applications. Congratulations!
See Laboratory News Archive »
Images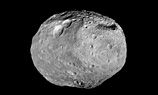 10/03/2013

As the Dawn spacecraft travels to its next destination, this mosaic synthesizes some of the best views the spacecraft had of the giant asteroid Vesta.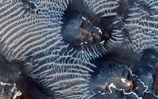 10/03/2013

This colorful scene is situated in the Noctis Labyrinthus region of Mars, perched high on the Tharsis rise in the upper reaches of the Valles Marineris canyon system.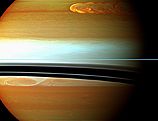 11/28/2011

Saturn's northern storm marches through the planet's atmosphere in the top right of this false-color mosaic from NASA's Cassini spacecraft.
See Laboratory Image Archive »