Planetary Systems Laboratory (693) Highlights
Press Releases & Feature Stories
05.16.2013

OSIRIS-REx, NASA's first mission to sample an asteroid, is moving ahead into development and testing in preparation for its launch in 2016.
04.22.2013

An image from an instrument aboard NASA's Landsat Data Continuity Mission or LDCM satellite may look like a typical black-and-white image of a dramatic landscape, but it tells a story of temperature
04.22.2013

From the very beginning it was a looming ticking countdown clock to get the Thermal Infrared Sensor (TIRS) instrument ready for the Landsat Data Continuity Mission launch.
See Laboratory Press Releases & Feature Stories Archive »
Presentations
Reports
There are no Reports available at this time.
Local News
Images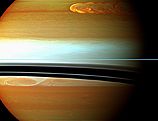 11/28/2011

Saturn's northern storm marches through the planet's atmosphere in the top right of this false-color mosaic from NASA's Cassini spacecraft.
See Laboratory Image Archive »