Astrochemistry Laboratory (691) Highlights
Press Releases & Feature Stories
05.16.2013

OSIRIS-REx, NASA's first mission to sample an asteroid, is moving ahead into development and testing in preparation for its launch in 2016.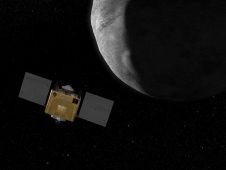 05.01.2013

The asteroid that will be explored by NASA's OSIRIS-REx spacecraft has a new name, thanks to a third-grade student in North Carolina.
03.19.2013

NASA's Lunar Reconnaissance Orbiter (LRO) watched as the twin GRAIL (Gravity Recovery and Interior Laboratory) spacecraft were intentionally crashed into a mountain near the moon's north pole.
See Laboratory Press Releases & Feature Stories Archive »
Presentations
Reports
Local News
01/14/2013

Dr. Bertram "Bert" Donn, the first head of NASA Goddard's astrochemistry group, passed away on Friday December 28, 2012 at age 93. Bert helped put Goddard science on the map in the early days, both within and beyond NASA. He also was influential in starting two lab efforts at Goddard and in hiring some of our better-known scientists.
See Laboratory News Archive »
Images
There are no Laboratory Image available at this time.