Search Our Resources
Showing 1 to 10 of 313 results for "Sun & Space Weather"
09.27.2013
Sunrise provided the highest-resolution UV images to date in of the chromosphere - this thin layer, which lies between the sun's visible surface and the its outer atmosphere, the corona.
11.10.2011
Should we be concerned about solar storms in 2012? Heliophysicist Alex Young from NASA Goddard Space Flight Center sorts out truth from fiction.
01.27.2011
This SOHO spacecraft image from 2002 shows a widely spreading coronal mass ejection (CME) as it blasts more than a billion tons of matter out into space.
02.05.2013
In 2009, NASA's Interstellar Boundary Explorer (IBEX) mission science team constructed the first-ever all-sky map of the interactions occurring at the edge of the solar system, where the sun's influence diminishes and interacts with the interstellar medium. A 2013 paper provides a new explanation for a giant ribbon of energetic neutral atoms – shown here in light green and blue -- streaming in from that boundary.
11.02.2012
FOXSI (Focusing Optics X-ray Solar Imager) launched from White Sands, N.M. to study these nanoflares. To do so, it will make use of a state-of-the-art x-ray telescope that will be able to focus incoming x-rays from the sun in a way that has never before been possible.
11.21.2013
The FORTIS payload was successfully launched this morning to observe Comet ISON. The payload flew to an altitude of 172 m miles before descending via parachute at White Sands.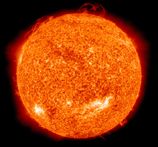 08.24.2011
Twisting strands of plasma dance at the sun's edges in this Solar Dynamics Observatory image captured in extreme ultraviolet light.
07.23.2012
Solar maximum is still a year away. This month sky watchers got a taste of things to come when a powerful flare sparked Northern Lights over the United States as far south as Arkansas, Colorado and California.
08.29.2012
In its first 15 years, ACE has helped determine the composition of the vast sea of flowing particles surrounding Earth. ACE also serves as a sentinel that helps measure the input -- the solar wind -- that drives the dynamics of the magnetosphere.
07.09.2012
Active Region 1515 released an M6.9 class flare beginning at 12:23 PM EDT and peaking at 12:32 on July 7, 2012. This region has been the source of much solar activity since July 2.
Showing 1 to 10 of 313 results for "Sun & Space Weather"
Back to Top