This site will be unavailable during the early morning of Tuesday Aug 4, due to system upgrades.
Sciences and Exploration Directorate (600) Recent Awards & Honors
NASA Honor Award - Exceptional Scientific Achievement Medal

2015

Recipients:

Steven L Snowden (662), Tod E Strohmayer (662)
Stephen Snowden: For developing the first physically coherent picture of the Local Hot Bubble
Tod Strohmayer: For demonstrating the existence of intermediate mass black holes
NASA Honor Award - Outstanding Leadership Medal

2015

Recipients:

Keith C Gendreau (662), Richard L Kelley (660)
Keith Gendreau: For outstanding leadership in bringing the Neutron Star Interior Composition ExploreR (NICER) instrument through Critical Design Review
Richard Kelley: For exceptional contributions to the development of high-resolution X-ray spectrometers and outstanding leadership of the Astro-H Soft X-ray Spectrometer team
NASA Honor Award - Silver Achievement Medal (Group)

Jul, 2015

Recipient:

GPM SMA Team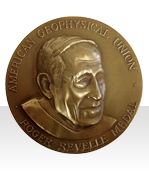 AGU Roger Revelle Medal

Jul, 2015

Recipient:

Anne M Thompson (610)
Given annually to one honoree in recognition for "outstanding contributions in atmospheric sciences, atmosphere-ocean coupling, atmosphere-land coupling, biogeochemical cycles, climate or related aspects of the Earth system."
Susan Neibur Early Career Award

Jul, 2015

Recipient:

Jacob Elvin Bleacher (698)
The Susan Mahan Niebur Early Career Award is an annual award given to an early career scientist who has made significant contributions to the science or exploration communities. Recipients of the Susan M. Niebur Early Career Award are researchers who are ten years out or less from their PhD, who have shown excellence in their field and demonstrated meaningful contributions to the science or exploration communities. This year the prize will be presented to Jacob E. Bleacher of SSERVI's RIS4E and DREAM2 teams at NASA Goddard Space Flight Center in Greenbelt, MD.
Klumpke-Roberts Award of The Astronomical Society of the Pacific

Jul, 2015

Recipients:

Jerry T Bonnell (660), Bob Nemiroff (Michigan Tech)
The Klumpke-Roberts Award of the ASP is awarded annually to an individual or individuals who have made outstanding contributions to the public understanding and appreciation of astronomy. Jerry and Bob were selected for their work on Astronomy Picture of the Day.
See all Awards »