This site will be unavailable during the early morning of Tuesday Aug 4, due to system upgrades.
Space Weather Laboratory (674) Home
PRESS RELEASE

Scientists Simulate the Space Environment During NASA's New Horizons Flyby

PRESS RELEASE

Science Jamboree Attracts Interns, Scientists from Across Goddard
See all Press Releases & Feature Stories »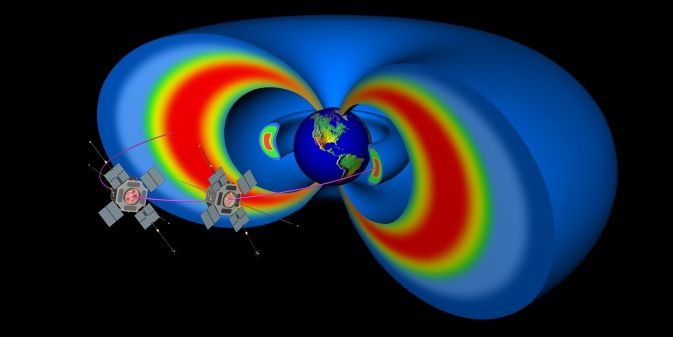 NASA's Van Allen Probes orbit through two giant radiation belts that surround Earth. Their observations help improve computer simulations of events in the belts that can affect technology in space. Image Credit: JHU/APL, NASA
Laboratory News
Overview
The Space Weather Laboratory performs research and analysis of the physical processes underlying space weather. It conducts space-based, ground-based, theoretical, and modeling studies of the chain of events that triggers space-weather effects of interest to NASA, other U.S. government agencies, and the general public. Laboratory staff lead the development of space environment projects and missions, and provide project scientists for NASA flight missions with space weather applications. The Laboratory communicates NASA research results to the scientific community, various space weather interests, and the general public.
Contact Us
Susan M Hendrix

301.286.7745
General inquiries about the scientific programs at NASA's Goddard Space Flight Center may be directed to the Office of Communications at 1.301.286.8955.