Atmospheric Radiation Measurements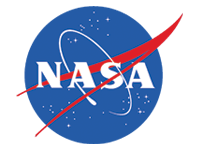 The Department of Energy's Atmospheric Radiation Measurements Program (ARM) complements NASA's satellite observations of the Earth. ARM employs sophisticated arrays of surface-based sensors to study shortwave and longwave radiation and cloud physics and dynamics. The first of fie projected ARM sites was installed in Oklahoma in July, 1992. One of the most vexing and difficult problems ARM will face is the interpretation of high-temporal-resolution radiation data in terms of properties of the cloud field overhead. Under a grant from ARM, the Climate and Radiation Branch is engaged in modeling the fractal-statistical character of cloud fields, using observed data from cloud field programs, with Monte Carlo computations of radiation emerging from simulated fractal cloud fields. This work has ramifications for satellite as well as surface radiation measurements.
An issue addressed by the ARM Enhanced Shortwave Experiment (ARESE) in Sept-Oct 1995 is the atmospheric absorption of solar radiation, estimated by some to be as much as 10 % greater than plane-parallel computations seem to indicate. Daily status reports on the ARESE field measurements are at: ARESE daily status. The Spring 1996 UAV deployment featured the first coordinated flights with the Multispectral Pushbroom Imaging Radiometer (MPIR) being developed at DoE's Sandia Lab for mapping cloud properties, and the Microwave Radiometer being developed here at Goddard by Paul Racette and Jim Weinman, for mapping cloud liquid water. Some of the flights will focus on manmade contrails, in coordination with the SUCCESS field program. The main focus, though, is on how cloud structure is related to cloud albedo, transmission, and especially cloud absorption.